The Difference in Cost Between Concrete & Natural Stone Pavers
A property in Central Florida is never complete without an inviting and easy-to-maintain patio/walkway to enjoy the great weather. The question is, what type of material is best for your outdoor space?
Your choice will be the difference between enjoying your outdoors or stressing out with maintenance and repair. We certainly do not want to have a patio or walkway that is hard to maintain, or one that is unappealing nor unreliable for heavy use. To make it easier for you to decide, we are comparing concrete pavers vs natural stone pavers in the Orlando and The Villages areas.
---
Concrete & Natural Stone Pavers
Why concrete or natural stone pavers? Compared to solid concrete slabs that tend to crack in extreme weather, both concrete and natural stone pavers are great materials for patios, walkways, and driveways because of their durability and low maintenance.
Both can take extreme weather swings and can stand the test of time for decades to come. Even if a piece breaks, it will be easy and relatively inexpensive to replace just that piece.
Another common advantage of both pavers is that being built with individual pieces, such flooring can disperse or distribute the pressure during heavy use. This prevents the tendency to crack.
There are, however, other things to consider such as versatility, style, budget, and color. These are some aspects where we can see some differences between natural vs. concrete pavers.
Choosing the right one is crucial because this is no small project. It thus helps to start with the choice that is perfect for your property.
Natural Stone Pavers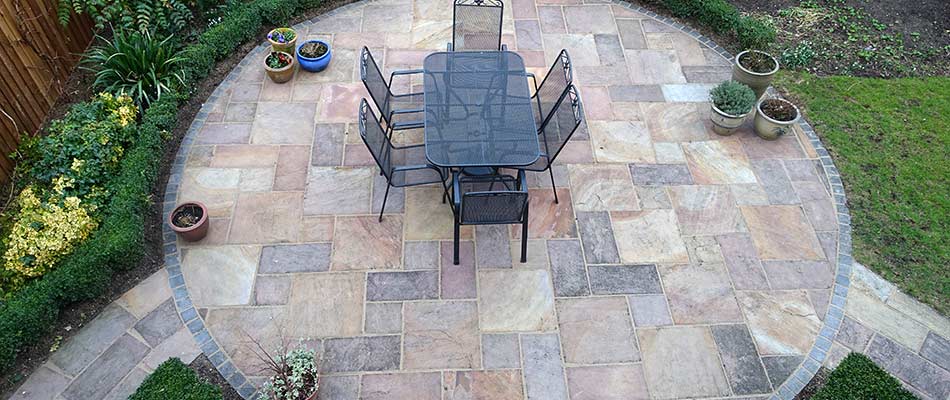 Natural stone pavers are quarried from the earth – they are "harvested" or dug out as huge stone blocks and cut into smaller pieces. This fact makes natural stones strong to withstand harsh elements. Due to this fact natural stones are understandably more expensive.
Another quality that is important to know about natural stones is that they may not be as level or flat as concrete pavers are. This makes natural stones unsuitable as flooring for the grill area, or even for tables and chairs. They may be cut into shapes like rectangular or square, but are usually a natural shape.
Furthermore, because they are naturally occurring, the colors of natural stone pavers are limited. Even if we want a continuity of color or pattern, this is not quite possible with natural stone.
Concrete Pavers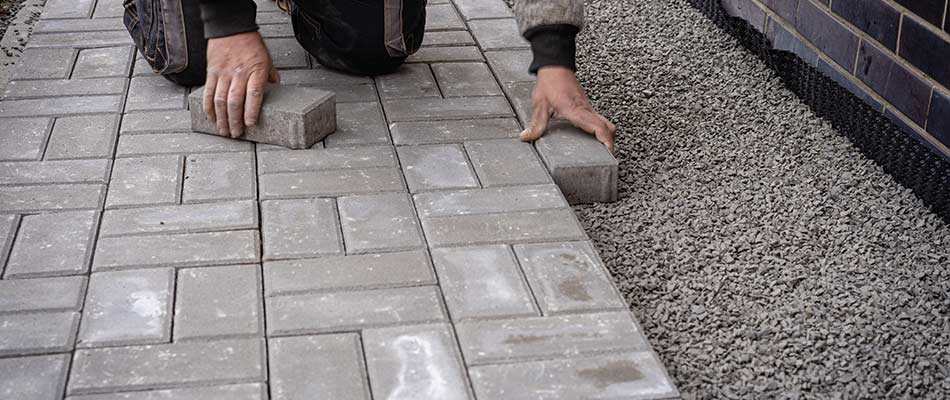 For that rustic charm and durability of natural stones without the higher price tag, concrete pavers are a great option, and the choices are many! Aside from being versatile in terms of shape, pattern, and color, they are also easy to maintain. With proper care, they are durable to last decades.
Concrete Pavers Cost Less Than Natural Stone Pavers.
Because of the relative ease in manufacturing, concrete pavers cost less compared to natural stones.
Concrete Pavers are Versatile in Terms of Color, Texture, and Shape.
Concrete pavers, being man-made, are highly versatile and can be customized to practically any shape, texture, and color. They can even mimic natural stones! This is a huge plus especially if there is an existing driveway or walkway and you want to achieve a cohesive look.
Concrete Pavers are Level Compared to Natural Stone Pavers.
Being level, concrete pavers are a better and safer option for your patio or walkway. You can put patio furniture down with out worruing about the wobble.
---
Concrete Pavers vs Natural Stone Pavers? Royal Landscape Nursery Offers You the Best Choice in Central FL
So the choice is yours, and it comes down to detail to decide if natural stone is worth the extra cost. Whether you are in Clermont, Orlando, The Villages, or nearby areas of Central FL, we can help you improve your residential or commercial property's value and curb appeal with natural stone or concrete pavers.
Come visit Royal Landscape Nursery and see our large display of pavers. Contact us at (407) 296-3042 today for a price quote and start enjoying your outdoor space!