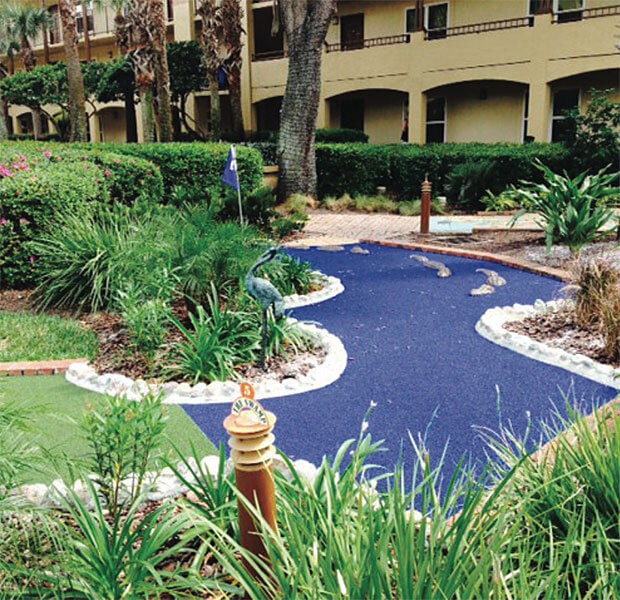 Creating a groundskeeping plan that is in line with the resort's budget and enhanc- es the beauty of the property is a daunting task. What are some factors boards need to consider?
For a small property with little green space, maintaining the grounds
with an on-site resort staff can make sense, as is the case with Schooner II Beach and Racquet Club in Myrtle Beach. Will Potter, Regional Vice President of SPM Resorts, explains, "The board made the decision
to have resort staff manage the landscaping because the amount of space is manageable, and it is more cost effective to maintain it on a daily basis than it would be to spend the money with a landscaping company."
However, for properties with larger common areas, opting to outsource is often more cost effective. Setting up a
quality, in-house groundskeeping operation from scratch is expensive. Storing equipment, from rakes and shovels to mowers, trimmers and blowers requires a lot of space, and creating safe storage for combustibles is important. Professional landscaping companies invest in the equipment, employees, and storage neces- sary to manage resorts' grounds.
Jeff Lessey, Regional Vice President of SPM Resorts, quips, "For a medium or large property, your household ride-on lawn mower and weed eater just won't cut it." He continues, "Anyone can push a lawn mower, but will they know what to do with the bald patch that shows up in the middle of the courtyard, or what's eating your dieffenbachia? Often, the best groundskeepers are working for the landscape companies already, running multiple crews."
Bill Young, President & CEO of SPM Resorts adds, "Proper landscaping at a time- share property is an essential element to the overall success of the resort. Owners want to be greeted with lush greenery, colorful flowers, and attractive pathways." He explains, "We create long-term plans to enhance the visual appearance of the resort, reduce annual maintenance expenses, and add to the guest experience. This can include enhancements like grilling areas or simply selecting durable shrubbery." He continues, "Choosing a landscaping company partner is essential, but remaining involved in the daily operations is equally important. At resorts that outsource landscaping, our staff remains vigilant of the landscaping to ensure quality control."
Connie Emmerson with Royal Landscape Nursery in the Orlando, Florida area handles the landscaping for SPM-managed property, Blue Tree Resort. She shares practical tips to consider when creating a landscaping plan for a resort.
Plant Selection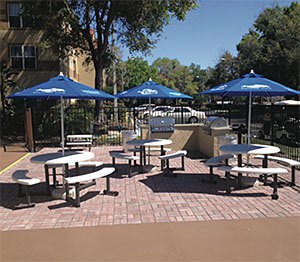 Emmerson follows Best Management Practices (BMP) when creating a plan for the resort. The most important aspect
is adding "the right plant in the right place." Grouping plants appropri- ately in an environment in which they thrive is important to help the longevity of the plant and stretch the landscaping budget. Assess the area for sunlight and accessi- bility to water when selecting the types of plants for an area.
It is also imperative to factor in the types of activities that happen in various locations around the property. Zoysia grass and Bermuda grass are good choices for high traffic areas because they do not have to be replaced frequently. For example, at Blue Tree Resort, Bermuda grass is planted around popular guest spots like the Shuffleboard area. She calls Bermuda grass "user
friendly" because it is more sustain- able than other types of grass, and can handle the foot traffic. The initial cost is slightly more expensive than other types of grass, but requires less maintenance to keep it viable.
She also points out, "Don't plant a thorny rose bush next to a pool or playground where children are playing and could easily get hurt."
Large shade trees make great places to add seating areas. "Shade is always welcome in sunny Florida," she states. Popular with guests, oak trees and magnolias smell nice and provide the shade they seek.
How about adding color to the property? Perennial plants last longer and are much more cost effective, but annuals make a nice impact.
"Change the look of your inviting entranceway with just a few annuals," Emmerson suggests. Using annuals sparsely in select locations keeps the seasonal updates affordable.
Adding Gathering Areas
Enhancing the property with seating areas, walking paths, gaming areas, and fire pits takes up space with permanent structures instead of plants. Popular social gathering spots at Blue Tree Resort include a new fire pit, a large chess & check- ers set, shuffleboard, seating areas, and seated retaining walls. Guests love these spots and the areas do not require consistent maintenance like pulling weeds or mowing, which saves money annually.
Reducing Liability
Lighting is used to beautify the property in the evening, but there are also safety factors to consider. Creating well-lit spaces at building entryways and paths throughout the property is essential to ensure the safety and sense of security
of guests. Emmerson notes, "Spacing is key. Creating a clear line of sight from entrances and along the walking paths is important when creating a landscaping plan. Avoid putting structures or large plants like trees or shrubs near entrance- ways, which can be frightening to someone walking out of their unit." In addition, leave lighting installation to the professionals. She adds, "Electrical wiring needs to be installed safely to avoid trip hazards."
Keeping it Clean
Lush green, freshly-cut grass surrounded by well-trimmed shrubs and colorful potted plants next to pretty park benches littered with water bottles and other trash quickly destroys the best landscaping efforts. So we will conclude with one last tip: it is always advisable to place trash cans in high traffic areas to keep the property clean.