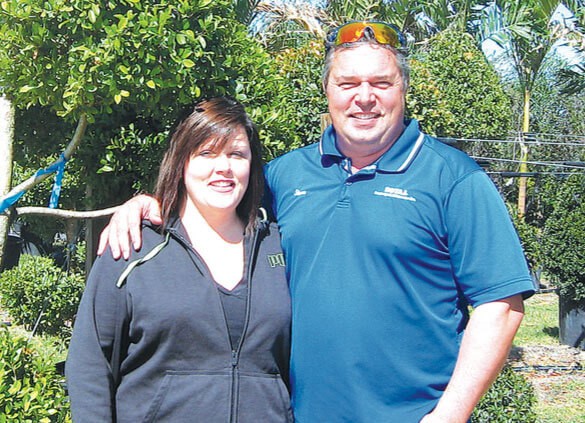 Floridians are fortunate to live in a tem- perate climate where plants and trees thrive year-round. Homeowners can enjoy beauti- ful outdoor surroundings that also translate into increased property values.
Early spring is the best time to consider a new landscape, as the threat of frost is a memory, and the blazing heat of the sun is still a few months away.
Some people may choose blooming plants to add splashes of color, or shrubbery and trees to provide shade and privacy. Others look to extend their outdoor living spaces by enhancing pool areas with pavers and water features. Whatever the scope of the project, Royal Landscape & Maintenance Inc. can coordinate services from design to installation.
Customers are invited to stroll the 19-acre nursery, located in Gotha, and make their selections.
"We tag each plant so they know exactly what is going in their yard," said Steve Emmerson, who has co-owned and -operated Royal Landscape & Maintenance with his wife, Connie, for 15 years.
Complementing Steve's more than 28 years of landscape experience is a full staff of professionals who can educate custom- ers about a variety of plants from proper placement to watering requirements.
Customers facing issues with existing landscape can turn to Royal Landscape professionals for advice. Homeowners can either bring in a clipping of a troubled plant or opt to have Royal Landscape personnel come to their homes.
"We like to walk our customer's prop- erty because it helps us identify problems, such as irrigation, soil quality or placement of plants," said Steve, who is committed to providing superior customer service.
For those choosing to change or put in new landscaping, Royal Landscape has a professional landscape designer on staff who can draw up detailed plans.
"We interview the customer to see what they have in mind and then suggest the appropriate plants," Steve said.
The customer can go to the nursery and see firsthand the plants recommended in the design.
Steve constantly looks for new plants to introduce to the nursery's inventory.
"I drive the state weekly and consult with other nursery owners to see what is out there," he said.
Royal Landscape & Maintenance also will special order plants.
There is no such thing as a minimum purchase at Royal Landscape. Customers can have any plant or tree delivered and installed, or they can opt to take it home themselves.
"We provide the same level of service whether we deliver and install one tree or bush, or an entire landscape," said Steve, who said no job is too big or small. "If you can think of it, we can do it, and at a lower price than our competitors."
People often have the misconception that nursery prices are substantially high- er than those found in garden sections of home improvement stores.
"Our prices are easily 30 percent less than the big box stores because there are no middleman costs," Steve said. "If a customer brings in a tag that shows a plant item cheap- er, we will slash our price to match it."
Royal Landscape also runs frequent spe- cials that lower prices even more.
The nursery grows 85 percent of the plant materials on-site under the watchful eyes of Steve and his head grower.
"This is a 24/7 job," he said. "We irri- gate our plants according to their particular needs and routinely apply fertilizers and fungicides to ensure their health."
Compare that to plants displayed at retail stores, which may not receive the same meticulous care and attention.
The slow economy certainly factors into people's decisions to spend money. Steve and Connie are sensitive to the situations customers face and will happily do projects in phases to accommodate budget restraints.
"You don't have to have a complete yard makeover all at once," he said.
However, some people want the instant gratification of the look of a fully mature landscape, so Royal Landscape offers a variety of sizes, including trees reaching more than 20 feet in height.
Understanding that beautiful landscap- ing involves a number of components, such as proper irrigation, soil condition, functional placement and proper care of plant materials, the Emmersons made the decision long ago to offer services that go beyond a traditional nursery.
"We want to develop trust and a friendship with our clients."
"We want to provide our customers with everything they need to install and maintain their landscaping," Steve said.
Royal Landscape & Maintenance has three divisions — a commercial component that provides landscape mainte- nance to corporate developments and neigh- borhood associations; a full-service nursery that offers a huge inventory of plants, trees, shrubbery, ground cover, mulch, top soil and fill dirt; and a paving company, where licensed and bonded personnel install pavers for pool decks, driveways and pathways, as well as construct retention walls.
Royal Landscape does not subcontract its jobs to other companies. All installa- tion and construction work is done by its employees in order to maintain full control of every aspect of the project.
"We are not at the mercy of a subcon- tractor who may be working behind sched- ule," Steve said. "I know exactly when the next stage of the project will begin since we handle everything in-house."
Either the designer or Steve is always on site to oversee the work.
Connie and Steve invite the public to see the quality products and services they offer. On March 21, Royal Landscape & Maintenance will host an open house at which people can enjoy complimentary wine and barbecue while they browse the property.
"We have the largest outdoor landscap- ing showroom in Central Florida," said Steve, referring to the landscape designs featured on the property and a huge pad displaying a variety of installed pavers. "We are going to have representatives from the three major paver manufacturers in Central Florida to answer questions," he said.
In addition, his staff, head grower and landscape designer will be available to help customers with their particular needs.
The Emmersons' daughters, Mia, 15, and 9-year-old Sophie, are beginning to take an active part in the family business. During the open house they will operate a produce stand.
Steve and Connie figuratively do not let the grass grow under their feet as they continually plan for the future.
"I am always looking for ways to make improvements and enhance our business to offer the best quality of landscape at the best prices. But I couldn't do it without my wife," he said with a big grin.
Connie runs the office, in addition to jumping in wherever there is a need.
"We are a mom and pop company, so we can give our customers personalized care," Steve said. "Our goal is to build a trusting relationship with our customers. We want them to be satisfied and come to us for future business."
Royal Landscape & Maintenance Inc., located at 2204 Hempel Ave. in Gotha, is open Monday through Friday from 7 a.m. to 5 p.m., and Saturday from 8 a.m. to 3 p.m. For more information, call 407-296-3042, 407-293-2913 or 407-445-4644. All major credit cards are accepted.