Florida lawns, if not properly cared for and maintained, can often look like patchwork. Excess debris or significant weather changes can, over long periods of neglect, can cause lawns to deteriorate and grass to thin out. There are two main ways to fill out patchy lawns: lie down sod or lie down seed.
Both methods have their benefits and their drawbacks, but it really comes down to your particular timeline. If you require more immediate results, lying down sod is most likely your best option.
Here are the benefits of sod vs. seeding your property in Orlando, The Villages, Clermont, Winter Garden, and surrounding areas in central Florida.
---
How Long it Takes for Sod & Grass Seed to Establish Itself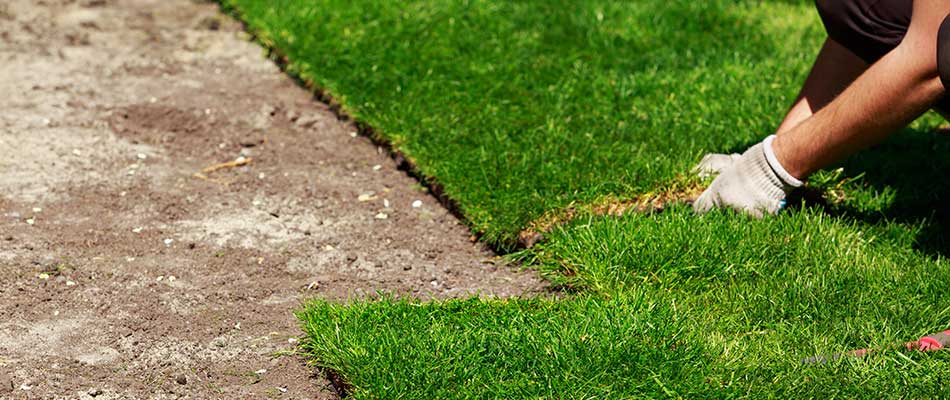 It can take several months for a seeded lawn to grow.
Since seeds are—well, seeds—it takes time for them to be distributed, watered, and to grow. This process can take several months to see a fully-realized lawn. While seeding is often cheaper, the time and maintenance needed for it to properly take effect and grow far outlast that of sod.
See instant results with a sodded lawn.
Lying down sod produces instant results. Whereas seeding may take several months to fill in a lawn, sodding ensures that your lawn is in excellent shape from the onset. From there, proper care and maintenance are all you need. When it comes to timeliness, sod is the winner. Lying down sod means your lawn gets to looking its best in no time—and we're here to help.
---
How Seeds & Sod Provide Benefits to Your Soil
Seeding can provide extra moisture, but won't help prevent erosion.
Grass seed requires ample watering after being distributed, and the extra moisture is beneficial to your soil's health as well. That said, if your soil is experiencing erosion, this watering may only compound those issues rather than alleviating them. Typically, if you are trying to fill in your lawn and have patches of exposed soil with little or no vegetation cover, your soil likely experiences erosion due to rainfall, so the extra watering needed for seeding will likely make the erosion worse.
Sod keeps the soil together as the grass roots grow and anchor the soil in place.
If your soil is experiencing erosion, lying down sod will actually help combat erosion. Once the sod is installed and the roots grow into the native soil, the grass' roots anchor into the soil, which helps prevent any further erosion. Though seeding can benefit healthy soil with the extra watering it requires, eroded soil can be further damaged by this. Lying down sod ensures that any eroded soil will be covered and healthy, too. A sod installation company can ensure your sod is installed properly.
---
Other Advantages of Sod Include Less Maintenance & Soil Preparation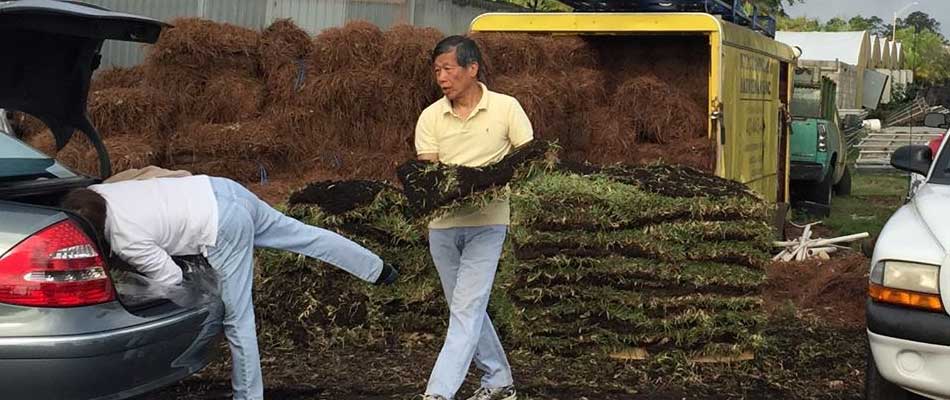 In addition to showing instant results and being able to combat soil erosion, other benefits of sodding rather than seeing include less soil preparation and less overall maintenance after the sod is installed. Whereas grass seeds require several months of ongoing care and maintenance, typically sod only needs intense water for the first two weeks after installation.
After the first two weeks, routine lawn care and maintenance should keep your sodded lawn in pristine form.
---
Contact us today for your sod purchasing needs!
At Royal Landscape Nursery, we pride ourselves in our knowledge of sodding needs in central Florida. In addition to sod, we also sell plants and shrubs, trees and palms, as well as mulch and rock, and we also provide landscaping and hardscaping services. Give us a call today at (407) 296-3042 for all of your lawn purchasing and landscaping needs, or you can request pricing here and we will return contact as soon as possible.