Adding custom hardscaping to your home, such as a custom paver patio, adds curb appeal, offers good ROI, and adds valuable outdoor living space. When you build an attractive and durable patio, it makes it easier to take advantage of the outdoor space. Choosing where to build your patio and what features to incorporate is just as important as choosing the materials to build it with.
Pavers are a great choice when building a custom patio. They are highly durable and low-maintenance material and offer myriad possibilities in terms of creativity. If you are in Orlando, The Villages, Clermont, and the surrounding central Florida areas, here are some reasons why your home or business needs a custom paver patio.
---
Paver Patios Are Extremely Durable & Slip-Resistant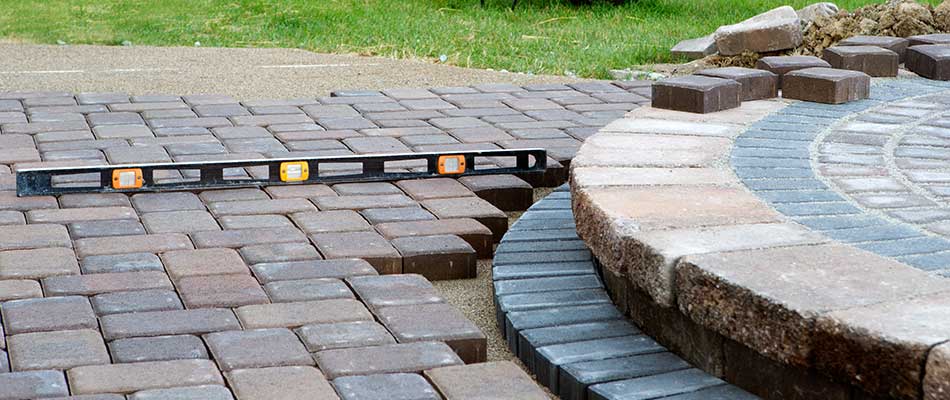 When compared to other patio materials, pavers are near the top of the durability scale. Pavers are sturdy and stable, can stand up to the wear and tear of weather without needing protection, and won't succumb to heavy levels of foot traffic. Unlike many other materials, pavers don't deteriorate and are incredibly strong and long-lasting.
A key benefit to pavers over other materials is their ability to expand and contract with varying weather and humidity levels. This is very important in our area of Florida, where we can reach unimaginable levels of humidity. Pavers are also slip-resistant, making them easier and safer to walk on when they get wet. If you have a pool or live in an area like we do where it rains a lot, this is an essential material for added safety around your yard.
---
Pavers Offer Versatile Aesthetic Appeal
Another draw to a paver patio is the endless amount of options available for customizing your patio. Pavers come in a huge variety of sizes, shapes, textures, patterns, and colors, allowing you to create a natural stone effect, or create a unique pattern that stands out as a focal point. Whatever style you choose, your custom paver patio will add beauty to your home or business immediately after installing it. You can easily customize your paver patio and make it beautifully complement just about any architectural style. Customizing your paver patio is limited only by your imagination.
At Royal Landscape Nursery, we have the area's largest display of pavers at our nursery for customers to come and view many different choices.
---
Pavers Are a Low-Maintenance & Low-Cost Material
Pavers are incredibly easy to maintain, making them a prime choice above other common patio materials. Unlike wood decks, they don't require a seal or stain, and they are not prone to cracking and breaking like concrete slabs. When concrete cracks or breaks, you have to patch the area, creating an eyesore that detracts from the visual appeal of your outdoor space. If one paver gets damaged, you can easily replace that piece without disturbing the pieces around it. A paver patio only requires minimal maintenance such as sweeping to keep it looking crisp and clean, and at most will require a little bit of sand to be added to the joints every three to five years to maintain it's durability.
Pavers are also much more affordable than other options, not just with the materials themselves but with the installation process as well. A lot of the costs associated with poured concrete patios has to do with the equipment and intense labor associated with them. Pavers are easy to install and are more affordable than other materials.
---
Ready to add a custom paver patio to your residential or commercial property?
If you're looking to add a custom paver patio to your home or business in Orlando, The Villages, Clermont, and the surrounding areas, our company can help! We have years of experience installing custom paver patios in the areas of central Florida. Call us today at (407) 296-3042 to begin your consultation!