Royal Landscape Nursery
makes outdoor beautification easy
Royal Landscape Nursery in the little town of Gotha is indeed a family operation. The nursery is owned and operated by Steve and Connie Emmerson, whose marriage has survived 22 years of working together. Their local business has continued to grow throughout the past 19 years with the help of their two daughters and reliable staff.
Their oldest daughter Mia, 21, will graduate from college in 2016 and take on responsibilities of the family business, while 15-year-old Sophie, who attends Dr. Phillips High School, also works part time in the company and has done so for years. The company averages 40 to 80 employees year-round, with very low employee turnover, and they are also recognized as family.
Connie is at the main office to manage daily office responsibilities and oversee the retail/wholesale aspect of the company. Steve is responsible for ensuring all of the nursery's items flourish to provide exceptional quality products, as well as managing new and existing accounts for the Landscape Maintenance Division of the company.
Royal Landscape grows approximately 80 percent of what it sells. This enables the company to keep its prices nearly 30 percent lower than comparable plants, bushes and trees sold in big chain stores. The foliage is lovingly grown amongst Royal Landscape's three locations with a total of 56 acres of land, and the plants nurtured are perfectly suited for Florida's climate. Royal also is able to ship to many other states in the country. The entire nursery offspring may be purchased through the retail store, located at 2204 Hempel Ave., where customers are also treated like family.
The staff at Royal enjoys getting to know its clients and providing information to help design new, or assist with existing, landscape needs. Many people bring in photos of their yards or homes, and the Royal staff assists in the design aspect for those customers' landscape dreams.
Connie and Steve, along with their team, work to develop friendly and professional relationships with their clients.
"It's what keeps them coming back," Connie said. "We see some customers almost every week.
"Many homeowners don't know how to properly care for their lawn. It's not like purchasing carpet, where it's installed and then just lays there. Sod is a product of Mother Nature and requires constant attention and care."
Connie encourages everyone uncertain about their lawn and landscaping to visit Royal's website at https://www.royallandscapenursery.info to find the information necessary to maintaining a beautiful lawn. The site also offers much more information about landscape services and what Royal has to offer to both homeowners and landscape professionals.
The nursery may be the most high-profile part of Royal's operation, but a large part of its business comes from commercial landscaping.
Royal Landscape Nursery designs, installs and manages commercial landscaping and landscape maintenance for many properties, including apartment complexes, homeowners associations and corporate properties.
"We also grow almost everything we use in our own projects," Connie said.
One recent point of pride for the company was the completion of the University Plaza, a project for Winter Park Construction that consisted of student housing and retail facilities located on the University of Central Florida campus. Royal completely supplied and installed the irrigation, landscape and hardscape for the entire project.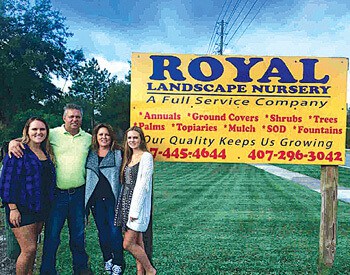 Although Steve and Connie may be the ones providing clients with a proposal for their dream landscapes, the Emmersons have a team of expert salespeople and creators who come up with the perfect combination of hardscape and landscape to accommodate each individual client's environment, preferences and budget. Many satisfied customers provide the word-of-mouth endorsements and referrals that keep Royal Landscape Nursery's clients and contractors coming back while also attracting new business.
Royal Landscape Nursery knows finding a trustworthy, reliable landscape or hardscape company is difficult. Many companies fail to understand that landscaping is not a static product. Royal strives to keep up with new, creative landscape designs and ideas, and utilizes best management practices to provide for "the right plant in the right place." It is important to use proper knowledge to ensure survival and sustainability in plants by providing the correct location for sunlight, shade and proper watering.
The Emmersons note that many clients have been burned in the past and find security in the fact that Royal has been around so long, as well as the fact that they have a brick-and-mortar location that cannot just be up and moved.
"We don't operate out of the back of a truck," Connie said. "We are fully licensed and insured to help add peace of mind for our customers."
Steve, who hails from England, learned gardening in a very different climate from Florida. Through continually educating themselves on the industry and the climate in Florida, the Emmersons have also built their business on honesty and integrity.
"We want to know when something doesn't seem to be right so we can correct the problem right away," Connie said.
If a customer is experiencing a problem with his landscape, he can call the nursery or send photos. The staff will happily assist in diagnosing the situation and strive to provide a solution.
"The busiest time of year is spring," Connie said. "It's when everyone wants to rebuild and freshen up from winter."
To celebrate spring, Connie and Steve are co-hosting their annual open house April 18 from 10 a.m.-2 p.m. at Royal Landscape Nursery. They expect upward of 100 families to attend the event, which will include barbecue, kids activities, tours of the grounds, and lots of free advice. It's a great time to meet the Royal Landscape Nursery staff, as well as enjoy a day full of fun. There also will be great discounts offered to spruce up any landscape.
It's just one more way of making the nursery business an inviting, family-friendly place.
Both new and established customers can appreciate the fact that there is a local, caring merchant in the neighborhood.